Rosewood Temple Designs
Product Name
Rosewood Temple Designs
Product Code
PM012
Price
Get Quote
Size & Weight
60"H x 30"W x 24" Deep, 45kgs(apx)
Call for Pricing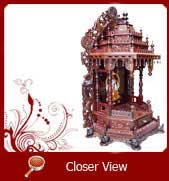 Pooja mandirs at home and work places began to see favour when the unfortunate intrusion of foreign rulers from different religions conquered Hindu kingdoms and ruthlessly suppressed the Hindu religion several centuries ago. These forces prevented the votaries of the Hindu dharma from spreading or following their faith and prevented the devout from accessing temples, forcing them to find means of worshipping at their homes itself. This led to the evolvement of the concept of Pooja Mandirs at home. This notion developed rapidly and one would find mandirs at the palaces of the kings as well as the impoverished domiciles of the lower class. Soon the brilliant craftsmen and sculptures of those times began to work on cubicles of wood, stone and metal to create stunning pieces of architecture in the form of miniature temples for adorning God at places other than the regular temples.
This spectacular piece of rosewood workmanship is one such traditional mount for God, replete with exquisite detail being both ornate in its décor and rich in its presentation. Mounted on feet elegantly sculpted in the shape of beautiful swans, the structure is given a base of a hexagonal shape. Between the swans run gently engraved festoons hung from beneath the base. Over the base is the ubiquitous puja drawer fitted with a brass knob. Each side of the box shaped structure is richly engraved with a central rosette and flanked with leaf designs. Atop this is the magnificent mandapa. The porch of this vestibule is ostentatiously decorated with engraved posts, parapets and carved piers. A beautiful image of the protector of all evils 'Lord Ganesha' is inlaid into the backdrop, flanked by twin pillars from either side. The roof hovers benevolently over the lord as an ornate umbrella, from the edges of which runs a beaded hanging from where tiny bells are dangled saluting the deity.
The roof is a hexagonal three stepped pyramid with a gracefully carved cresting from betwixt of which short posts topped with Waterford finials rise in salutation. The pinnacle or the sikhara of the structure is a three balled finial which protrudes above in glory. The most beautiful ornation to this divine structure is the addorsed equine heraldry, which sculpted brilliantly, prominently adorns the rear sides of the mandir. Rising from behind the sides of the roof, two delicately engraved murals join together at the apex of the structure from the conjunction of which a commanding pediment is displayed.
This stunning example of traditional mandir architecture brings to the forefront the care, the diligence and the creative mastery with which it is crafted. One of the most visually enchanting Pooja mandirs to hoist the image of the lord!
Top