Rosewood Pooja Mandir
Product Name
Rosewood Pooja Mandir
Product Code
PM001
Price
Get Quote
Size & Weight
12"w x 18"l , 30"h, 10 kg (apx)
Call for Pricing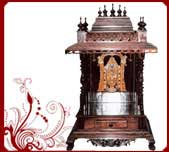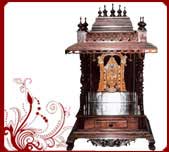 Hail the deity of your hearts by honouring his figure in this simple yet soberly designed rosewood cubicle of prayer. The craft and design that this instrument comes with is modest and portrays the lord's image prominently. Essentially made for the austerely religious, the implement sans the occasional garish sophistication and decor that several other models demonstrate. The principle behind this model's design is an enhancement of the portrayal of the deity which doesn't feel overshadowed by complicated structuring of the model.
The base of the rosewood pooja mandir cabinet consists of a square shaped pedestal supported by curved wooden feet on all the corners and on the surface is laminate paneled. Between the frontal feet along the middle of the pedestal, an intricately carved two way design is fixed hanging towards the bottom which offers an appealing view. Over this base on the next level is a complete draw to store the essential ritual miscellany, such as camphor, lamp oil, incense sticks, rose water, tiny brass bells, raiments for the deity and such other puja related trinkets. The cupboard or the drawer is fitted with a large single wooden knob to enable ease in movement of the shelf in and out smoothly.
Atop this draw is the main component of this cubicle in which the lord's image can be positioned. The level is surrounded by elegantly carved hard rosewood piers which also provide the requisite support to the roof of the cabinet. Evenly spaced, the pillars at the back of the cubicle hold together a backdrop against which the figure of the lord is positioned. On the front of the main pedestal, opposite to the deity's image is a plain surface on which oil lamps can be lighted, flowers cast and the incense sticks placed on a holder, during worship sessions.
Over the main chamber of the cabinet is structured a roof which tapers at a reflex angle providing protection to the lord. Along the edge of the tapering, a gracefully carved wooden border hangs down at the front to enhance the appearance of the mandir. Over this level are two more tiers, the lower one which is encircled by cuboids of beaded wood topped by twin spheres placed one over the other and sport a miniature shikaram each. Between the front two cuboids the tier is carved on the facade with concentric circles giving it a rich feel. The apex of the structure contains a five shikharas which grow in size and height as they reach the centre. This final base gives the appearance of a mounted chariot on wheels and which immensely improves the visual appeal of this graceful puja mandir.
Beauty is simplicity and this piece of art exhorts the maxim in its style and structure. An inviting piece of architecture which is a value addition to your depiction of God!