Wood Temple Home
Product Name
Wood Temple Home
Product Code
PM020
Price
Get Quote
Size & Weight
5.10ft H x 4ft W(leg to leg) x 21" Deep
Call for Pricing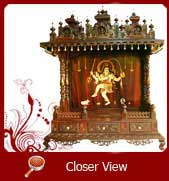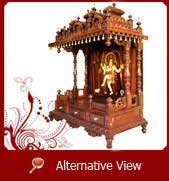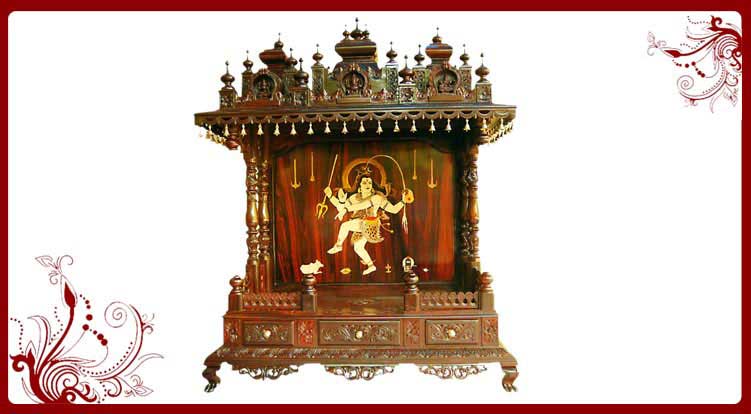 House Warming Gifts - All of us pray to God at one place or the other. What better place to pray to God then your own home? You could do this by getting this beautiful wood temple for home which we exclusively bring for you designed careful by our skillful artisans. The design is inspired from the Hindu style of architecture used in temples which makes this a replica of a Hindu temple famously known as 'Mandir'.
The Vimanas at the top portion of this wooden temple rest on a thick ledge which is carved delicately with rich floral designs. Also in the top portion reside the three miniature deities of Goddess Laxmi; the Goddess of wealth, Lord Ganesh; widely known as the obstacle remover and finally Goddess Sarswati: who is the Goddess of knowledge, music and arts. Small projections garland the edge of the top area.
Coming to the most striking feature of this wood temple, the picture of Lord Shiva in the background, who is a major Hindu deity. Lord Shiva, according to Hindu mythology, is also known as the Destroyer or the Transformer. He is usually depicted in various forms but in this Hindu Mandir He is depicted as dancing the Tandava, which is a vigorous dance form and is one of the reasons why Lord Shiva is also known as the Lord of Dance. Two beautiful lamps are sketched at either sides of the Lord to dispel darkness. The wood temple is fenced with detailed geo-metrical patterns. Two pillars on either side stand tall as they connect the upper portion to the lower portion of the temple. You could place the deities or 'Murthy' of at least three Gods. There is also a storage area where you can place pooja objects like wicks, camphor, incense in the three drawers provided below. This smaller version of a Hindu Temple is capable of accommodating another deity too. You too could enhance the look of the temple by decorating it with flowers, leaves etc, to give a personal touch to the wood temple for home.
This Mandir for home, as the name suggests, is ideal for your home. The wood temple's maintenance is also minimum as it only needs regular dusting and wiping to preserve the longevity of the wood. This wood temple home would be an asset to your home as it will not only inhabit God but also add to the aesthetic feel of your house. The Best House Warming Gifts
Top