Buy Wooden Temple
Product Name
Buy Wooden Temple
Product Code
PM015
Price
Get Quote
Size & Weight
5ft height x 4ft width(leg to leg) x 21" deep
Call for Pricing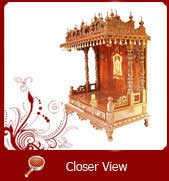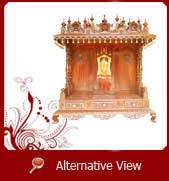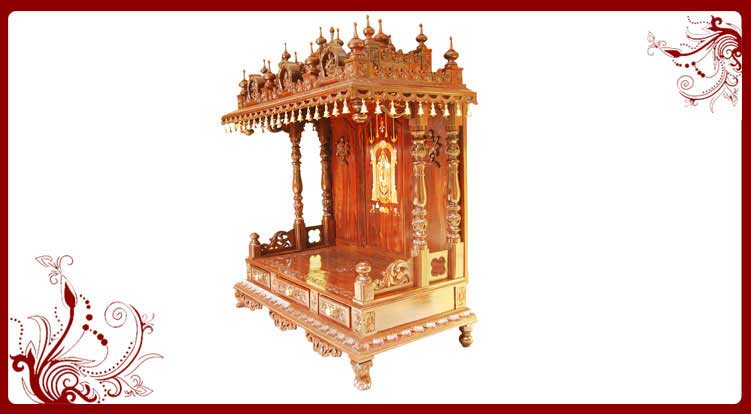 In Hindu Sanskrit literature there are six orthodox heads which are the most authoritative scriptures for Hinduism. They are 1. Srutis, 2.Smritis, 3.Itihasas, 4.Puranas, 5.Agamas and 6.Darsanas.The Srutis are otherwise called the Vedas and also by the name Amnaya. The Vedas are believed to be superhuman or Apaurusheya, not authored by anyone specifically. The Vedas form the cornerstone of the Hindu philosophy and its dharma. Knowledge is Veda in Sanskrit and these betoken the books of knowledge. The Vedas are believed to be the impregnable sempiternal truths revealed by God to the great rishis of the Hindu sect. The spiritual experiences of these rishis are represented by the Vedas. The Vedas are philosophically divided into Karma Kanda, Upasana Kanda and Gnana Kanda. The Upasana Kanda is the worship section which deals with a repertoire of prayers and meditation.
As it goes, bhakti or devotion of the Hindus was abundant in the sect and worship was not restricted to the temples alone. To facilitate the continuation of worship even at home and places of work, the puja mandirs became a mode of simpler and convenient access to God.
This mandir elegantly crafted by our master craftsmen signifies a great deal of devotion as it is used as a cubicle to position the image of God. The whole structure of the temple rests on a rectangular shaped design mounted on a foursome of rounded feet. The baseboard carries around the edges a beautifully engraved design with a grooved moulding. From the front of the structure at the base, three carved murals hang equidistantly between the feet giving a grand look. Over the baseboard a three sectioned puja draw is placed to store essential puja accessories and the lord's accoutrements.
On the right and left sides at the front of the mandala a carved baluster is placed which holds a splendidly carved railing in place extending to the first pillar on either side. Behind these twin pillars rise a second set and proceed to the roof. The second pillar set abuts the backdrop against which the image of the venerable Lord Venkateshwara, the universal protector, is inlaid. Twin figure heads of two sub deities are placed alongside the image of the lord in a well engraved relief work. The roof hovers gently over the structure as if showering the lord with accolades. From the edge of the roof a delicately moulded cresting hangs down fitted with beautiful metallic bells. The dome of the temple structure is affixed with sculpted arches, posts and finials giving the entire form of this cabinet a fine look of grandeur.
The front façade of the roof sports three arches which hold seated figures of the other principal deities Ganesha, Saraswathi and Lakshmi.This alluring piece of wooden mastery is a glorious demonstration of our esteem of the Supreme Being.
Top