Wooden Temple For Home
Product Name
Wooden Temple For Home
Product Code
PM019
Price
Get Quote
Size & Weight
4.5ft H x 3.5ft W(leg to leg) x 21" deep
Call for Pricing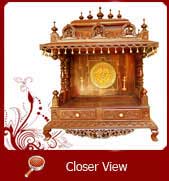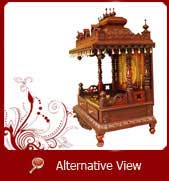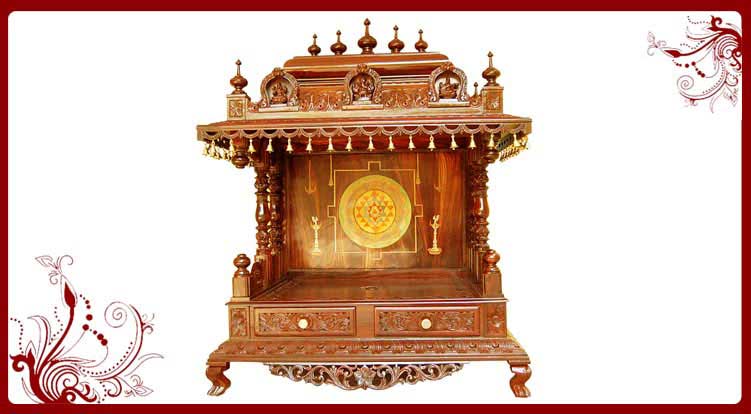 Gruhapravesam with wooden temple for home -
Whether it is the conditions of our life, our capabilities, our tastes or temperaments, or our spiritual development; we are provided spiritual sustenance by Hinduism which prescribes yoga sadhana for everyone to attain realisation of the divine, even while performing the simpler tasks of our avocation. The teachers of Vedanta and yoga are emphatic on their promotion of self restraint, meditation or tapas, renunciation, and endeavour or sadhana, best assessed in controlling the mind and to realise divinity while attaining self realisation.
The uniqueness of Hinduism is that it is not a creed of mere theories, rather it is distinguishingly practical. Other religions do not propagate practical yoga or expound any sublime philosophy unlike Hinduism. A glorious land of sages, yogis, and rishis, India is the birthplace of Hinduism. The rational element of this religion is its philosophy. It is a way of life. Worship of the lord is intrinsic to Hinduism who manifests himself in multifarious forms and figures.
One of the traditional models of our mandirs, this adorable puja cabinet can be offered to mount your choice deity and receive his grace. The base is of a regular square and stood on curved feet while its border carries a deft design along the front and the sides. A twin draw is placed over this base with dexterously etched wooden engravings on the face. Two knobs are provided to operate the draws. Over this base is the seat of the divine entity, over which hangs the umbrella roof. The porch while open at the front carries a sphere topped post on either side from the rear of which run delicately carved railings extending to the first pillar pair supporting the dome. Another pair of adeptly carved pillars rises from behind and a brief parapet of moulded top is provided between the front and the back pillars. The backdrop is well polished onto which a motif design is inlaid in the centre, flanked by inlays of twin lamps in adoration.
From beneath the roof directly above the entrance posts hang similarly carved pendants. The edge of the roof is bordered with eaves of a hollowed groovy design, from whence dangle an array of bells which continue along the visible structure. Twin Waterford finials guard the roof from the either side between which runs an intricately engraved cresting. Between the cresting are provided three arches which host the figures of goddesses Lakshmi and Saraswathi flanking the figure of Lord Ganesha in the centre. The structure is finished with a pinnacle of four shikaras flanking the central and main ball finial.
This grand sri chakram wooden temple for home gives an over all look of sincere appeal and graceful delight and could certainly interest the lord to take up residence in its sublime structure.
Top