Rosewood Carved Temple Design
Product Name
Rosewood Carved Temple Design
Product Code
PM035
Price
Get Quote
Size & Weight


5 ft H x 3.5 ft W (leg to leg)x 3ft W (pillar to pillar) x 21" Inches Deep, 60kgs(apx)
Call for Pricing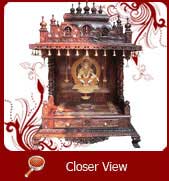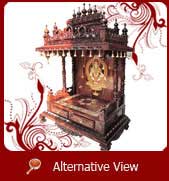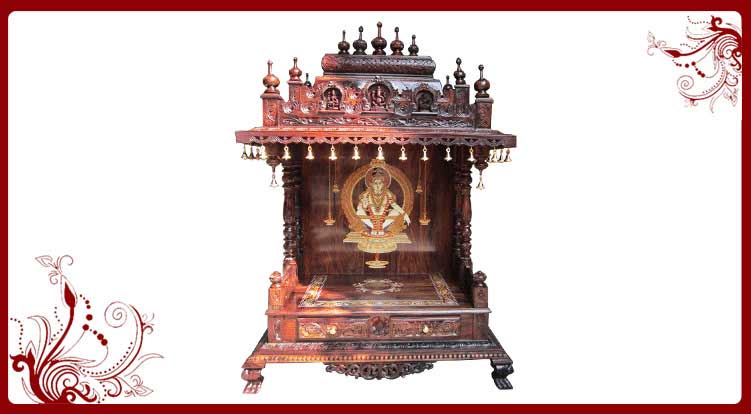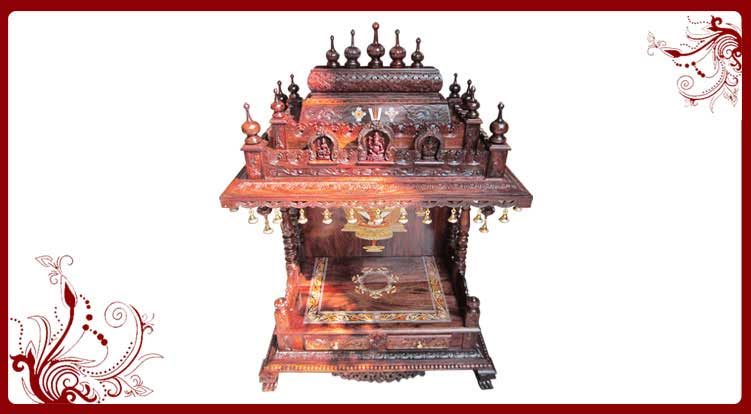 This rosewood carved temple designs has been skillfully carved into breathtaking work of art, very deftly crafted with rich floral patterns and alpana motifs. With Lord Ayyappa sitting poised in the inlay of the temple, you will feel connected to the mysticism of god and a must have for your home. This stylized temple is unique in its architecture as it attempts to relive the splendor of ancient Hindu temple structural grandeur. Stay connected to your lord and make this temple a part of your dwelling.The elevated top of the home mandir is sculpturally articulated with a dome having projections over it,representing a fine masterpiece of the skills of our artisans.
The dome positioned on the ledge which extends to the upper portion of the carved temple is limited by the arch which is well crafted to accommodate deities of Lord Ganesha, who is the symbol of prosperity, Goddess Lakshmi, who symbolizes wealth and Goddess Saraswati blessing you with her knowledge. The arch on the top is bordered all around with floral patterns giving an immense attractiveness to the whole architecture. From the outside border on the top portion of the temple hangs the brass bells makes the temple look even more elegant. With every breeze ,the jingle of the bells will always remind you of your lord and his blessings that prevails in your abode.
The dais is marked with the floral design in the centre and ornamental motifs around the sides. The backdrop is elegantly and finely etched with Lord Ayyappa,sitting very collected and ready to fulfill each of your wishes. The long threaded bells on sides of the Lord in the inlay with a diya sketched below bestows a sense and serenity of the divine.The pillars on the sides of the podium is curvilinear,flank majestically giving an imposing view to the mantap.The temple stands on a prop like structure which is strong and shaped to give enough support to the whole architecture and is long lasting.
The two drawers are provide to keep your puja items, like incense, camphor, holy books etc. Our prayers are complete when we offer our God with incense and camphor and seek his blessings. The flowery patter on the bottom extends below to form an arch,very intricately finished is an outstanding exhibition of our human effort.Bring home this beautiful mandir for home and be showered with the holiness of the lord.
Top