Rosewood Home Temple Price
Product Name
Rosewood Home Temple Price
Product Code
PM018
Price
Get Quote
Size & Weight
4.5ft H x 3.5ft W x 21" deep
Call for Pricing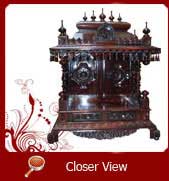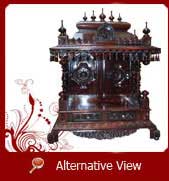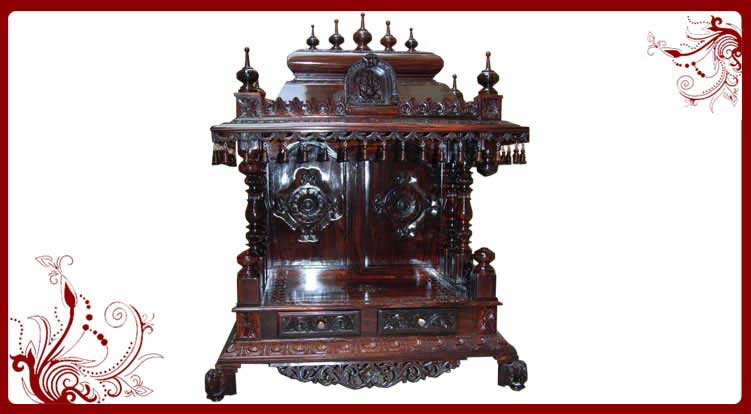 A mandiram, as in Hindi or a temple is where the God resides. Only when God resides in a house it is believed to be complete. Therefore, realizing the importance of a Hindu Mandir in your home our artisans have done beautiful work in creating this rosewood temple designs for you. It is done in an elegant style. ( Call to get a quote of the temple price ).
Its beautiful rich color is bound to attract every eye. The domes stand right at the top of this rosewood temple giving it a very royal touch. The stand on a thick ledge ahead of which is a small section which houses the obstacle remover and the aptron of literature, Lord Ganesh as known in the Hindu mythology. Another pattern of a garland borders the edge of the top area with bells hanging from them which jingle in the air.
The polished inner sanctum enhances the regal appeal of the rosewood mandapam. It has ample lot of space for you to install your Idols in it. The deity area is left open. The backdrop is done with geo-metrical designs while the pattern on the floor too is done with fine details. Four sturdy looking pillars are carved in place by our skilled artisans which connect the upper portion to lower portion of the Home Temple. The two drawers act as storage place for your daily-use pooja objects like wicks, incense, camphor, chanting books etc. The elaborate design on the down-arch bellow the altar is stunning as it is done delicately using floral patterns which gives the rosewood temple a completed look. Each portion of this beautiful Wood temple is done to complement each other and give it a familiar look of a typical Hindu Temple yet unique in its own sense.
The minimum maintenance this rosewood home temple is a distinctive feature of this Home Temple. It only requires the regular dusting and wiping of the figurine and the altar to preserve the polish, luster and longevity of the temple. There is no restriction to an installation place thus; it can be installed in any place from home to hotel lobbies to offices.
Get this beautiful rosewood temple for your home and it will surely flatter your taste and increase the grace of your house. After all when it comes to accommodation of the Almighty a Hindu Temple like this only could bring to you all that you were looking for in a typical Mandir for your Home.
Top