Rosewood Puja Ghar Mandir Designs
Product Name
Rosewood Puja Ghar Mandir Designs
Product Code
PM029
Price
Get Quote
Size & Weight


6ft H x 6.5ft W (leg to leg) x 6ft W (pillar to pillar) x 2ft Deep, 80kgs(apx)
Call for Pricing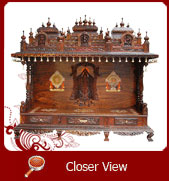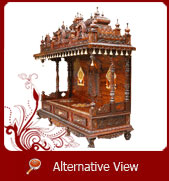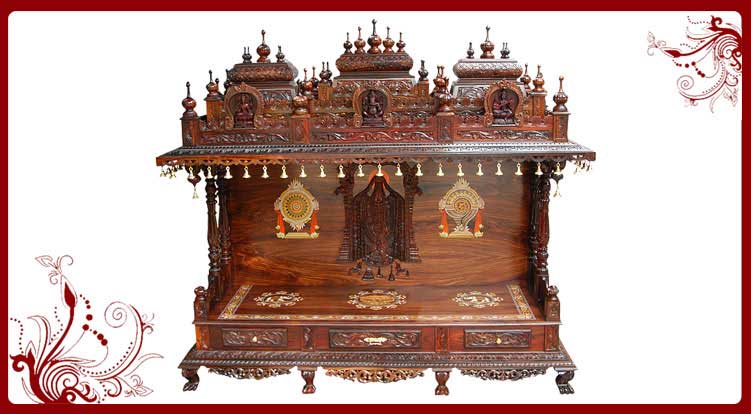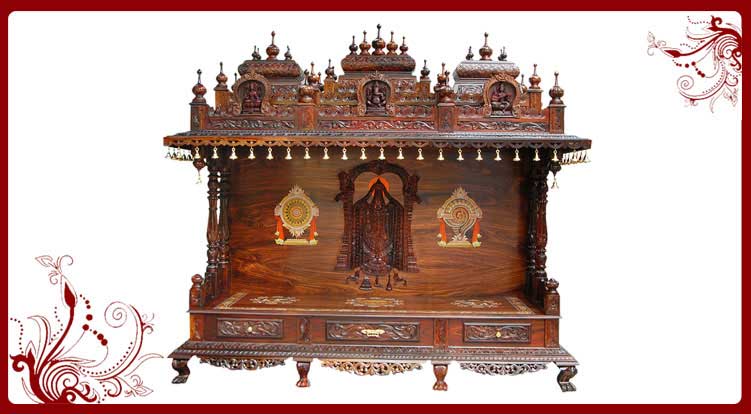 The articulation of the puja ghar architecture in our deftly sculpted wooden temples is the masterpiece of our artisans. If you are in search of a spacious and finely crafted temple and bring home a place for your lord, you have accomplished your search here. Lord Venkateshwara is majestically carved from the wood in the backdrop, stands statuette, warding off the evil from your life.
This rosewood designed puja ghar mandir is wide and roomy for placing your deities and perform your puja with all divinity. The top section of the temple is marked by three ornate designed domes, accommodating very elegantly designed curved projections having bead like appearances with pointed tips, an architectural beauty found in many Hindu temples. The arcade on the top is having fine piercings and continuous floral theme, gracefully accommodating idols of Lord Ganesha in the middle, Goddess Saraswati to the left and Goddess Lakshmi on the right.
The portico of the pooja ghar design extends downwards to form a hemispherical concave pattern from which the brass bells hang to add more grace to the temple architecture. The dais of the temple is broad and etched with ornamental outline and motifs around the periphery. The wooden carved Lord Venkateshwara is figurine and stands serene in the background, showering his love and care.The discus and the conch shell in the inlay symbolizing, power and existence collectively cascade their over whelming effect on you. Side views of the temple depicts two pillars which connect the upper and the lower portion of the temple.
The side lower section of the pooja ghar is carved with beautiful design envisioned by our human effort and extend to form an arch. The frontal lower portion has three drawers to keep your incense sticks, camphor, wicks and holy books and perform a comfortable puja to your lord. The lower border protrudes outward marked with fine and smooth ridges and have three arches hanging below. This temple stands on four legs in the front and two at the back. Keep your temple dust free and clean regularly for kits longevity. Bring this temple to your home and fulfill your wishes. We deliver our products from India to USA, Australia, Canada in short period of deliver time
Top