Puja Mandir USA
Product Name
Puja Mandir USA
Product Code
PM031
Price
Get Quote
Size & Weight


6ft H x 4.7ft W (leg to leg) x 4ft W (pillar to pillar) x 2ft Deep, 90kgs(apx)
Call for Pricing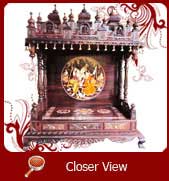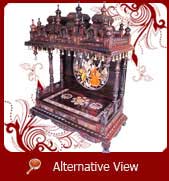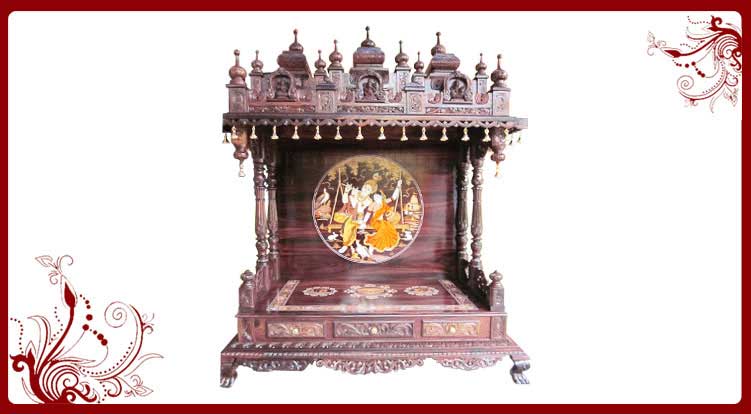 We present you a Puja Mandir USA with Radhakrishna colour wood inlay work design which is not only a masterpiece of our fine artistry but also a perfect décor and worship place in your lovely dwelling. Bring home this classical piece and create a place for your eternal. Our wood temple has a reddish tinge all around giving a very natural rosewood looks to the temple.The architectural beauty of our ancient home temple is represented in the three domes, standing tall and grandiose.
These Vimanas rest on the upper extension of the temple which are fenced with geometrical pattern, housing the deities of Lord Ganesha, Goddess Lakshmi and Saraswati, each placed right infront of the vimanas. The perimeter is laced with brass bells which give a serene appearance to the temple. The inlay is designed with the image of Radhakrishna, icon of eternal love. Every message in our Hindu mythology teaches us love and respect to all. Express your love to your God and take his blessings.
The podium which is ornately designed is surrounded by the alpana patterns making it very comprehensive for word "Mandir". The strong pillars on both the sides of the temple is crafted with dexterity and the temple is fenced with geometrical pattern. The sides of the temple have also been beautifully crafted to give completeness to the whole architecture. The Lower half of the temple has the storage area for your puja items like wicks, camphor etc.
You can add more personal touch to your lord by using flowers, leaves for your worship. The three arch like structure hanging from the bottom of the puja mandir usa is done with flair and poise. The complete wooden structure rests on four legs which is crafted from the wood and curved shaped to give an appearance of a feet like formation. Lord Radhakrishna who is a common derivation of shakti and shaktiman, implies a divine source of energy and your gratitude to the eternal will bring all the happiness in your life. Buy our puja mandir designs from USA, Australia, Canada, India and give your lord a place in your heart and soul.
Top