Wooden Puja Mandir Sale
Product Name
Wooden Puja Mandir Sale
Product Code
PM005
Price
Get Quote
Size & Weight
2ft W x 4ft H, 18" Deep, 20 kg (apx)
Call for Pricing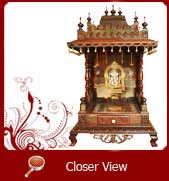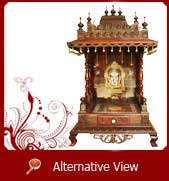 Each day as we wake up in the mornings, we look forward to having a good day ahead, and indeed most of us start our day with a silent prayer on our lips thanking god for protecting us through the night. Wouldn't it be amazing to begin the morning hour by saluting the ubiquitous lord seated in this gracious settle? Let the magnanimity of your favoured deity shower blessings across your household as you exalt his grace by seating him in this divine home temple of beauty.
The structure of the mandir is housed on a square base mounted on carved and curved feet which resemble the feet of the deity. The feet are affixed to a pedestal which is bordered with a carved moulding. Around the surface edges of this base, a floral pattern is beautifully carved, giving the base a lovely look. Under the base of the pedestal on the front, a finely engraved symmetrical decoration is gently hung giving an appealing look to this cabinet. Over this is seated a box containing a draw with a white painted knob. The draw is elegantly carved on its face and the chamber is used to hold the required Pooja ingredients. On either side of the box, to the front, a gentle floral design is given which begins at the bottom and extends to the top of the box.
The top of this level is designed to be the domain of the lord. On the surface of this pedestal is a neatly painted mural design that acts as a border. On the centre of the surface is a large 'mandala' painted within a circular ring over which the lord's image can be placed. On either side of the entrance are two shortened entry posts topped with a spherical knob. A carved circular pillar quartet rises from here to support the roof symmetrically. The mandir here is given a wooden puja mandir sale laminated backdrop against which the image of the deity can be seated or hung. The rafter of the roof gently hovers down to a few inches and acts as an umbrella to the lord. The lower edge of the rafter around the structure sports a hanging border which is beautifully carved into small semi circular grooves, each from which a lovely little bronze bell is hung. This adornment gives a pleasing look to the structure as it progresses higher into the celestial dome of the temple.
The staggered pyramidal roof possesses a three step styling, each with posts at either end topped with a miniature 'gopuram.' The sidings are delicately carved with a continuing pattern as the railing and at the pinnacle stand three shikaras, with the central shikaram standing at a greater height.
The general appearance of the structure is one of awe, as it effectively demonstrates the care with which it is handmade. A great mandir to adorn your favoured deity with!
Top