Temple for Home
Product Name
Temple for Home
Product Code
PM006
Price
Get Quote
Size & Weight
2ft W x 4ft H, 18" Deep, 20 kg (apx)
Call for Pricing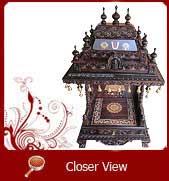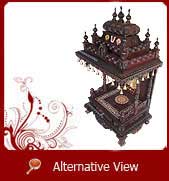 The fact that Hinduism is the single largest religion in India is due to its age old history. Hinduism existed as the basic principle of truth hundreds of years even before Christ. It is the essence of our culture, tradition and personal beliefs. Though India was invaded by several nations who were partly successful in spreading their religion in our country, the strength of this religion has held the community through its philosophical appeal and dharma. Today over a third of the Indian population are staunch Hindus and their faith is only getting stronger.
Let your devotion be decreed to the almighty God as you use this magnificent mandir to host him at your home or work place. This masterly piece of elegant design is made with hard rosewood and is exceptionally beautiful. Mounted on a stand of square design on strong curved humanoid feet, the edges of the base sport an artistically engraved design all around. The top of the base is fitted with a drawer to store Pooja accessories. The draw spans a beautiful engraving on its frontal side in the middle of which is the brass knob to use the draw. Atop this drawer is the actual puja mandapa. On either side of the mandapa there are twin posts from behind which a railing goes till the end, with a pillar foursome rising from the middle of the railing to hold the roof above. The top surface of this divine pedestal carries a mural design which circumambulates the central mandala.
Against the backdrop on the wood is inlaid the figure of the deity, Lord Venkateshwara. By choice any other deity's figure may also be chosen. The roof is an example of fine craftsmanship with multiple motif designs on the face of the edge which gently hovers over the image of the lord. Along this cornice, tiny bells are hung which sing accolades to the lord. Hanging from the roof are two bigger bells of bronze which are hoisted from the either side as imposts dangling from beneath the roof.
The roof is two tiered with sub shikaras in salutation on all the four corners of each level. The parapet of each level is richly engraved and on the front of the first level is an arch shaped pediment containing a minor figure of a sub deity. The sikhara is based above a trapezium base on which the lords symbols, i.e. the tilakas are painted. The pinnacle is flanked by two lesser shikharas. Rich engravings circumambulate the structure at every level demonstrating a general sense of finesse in the cabinet. The general appearance of the structure is of one upmanship.
Top