Home Mandir
Product Name
Home Mandir
Product Code
PM008
Price
Get Quote
Size & Weight
26 " w x 40 "l , h 60 ", 35 kg (apx)
Call for Pricing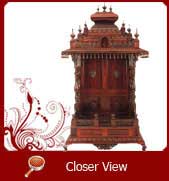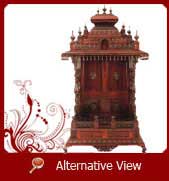 Enable the faith in you manifest itself and proclaim your genuine adoration of God through this traditional puja enclosure which portrays benign grace and gentle charm.
Since the advent of Hinduism, temple architecture was centered on the principles of Vastu or Vastupurusa which in other words means 'the spirit of the site.' Legend has it that an evil demigod was born from the sweat droplets of Lord Shiva during a fight between him and Ausur Andhaka. This creature upon consuming the asura, developed hunger that was insatiable, and to overcome it he did a great penance to Shiva, winning a boon that gave him the strength to swallow all the three worlds of the Hindu cosmos. As he stretched and began to occupy the heavens, he fell back to the earth after being forced out by the deities. The devas and the rakshasas realizing what a great threat he would be, pinned him to the ground paralyzing him. They lodged themselves on his body to prevent him from moving and grounded him completely. His being thus came to be called Vastu. The deities in holding him down positioned themselves on different parts of his body and began residing there. Lord Brahma then decreed that he would be made offerings by people whenever they construct anything on a site.
All the mandirs that are created by us are crafted around the basic Vastu principles following the lines of the traditional Indian temple architecture.
This fine puja cabinet is created on a squared base over which a neatly crafted box consisting of dual draws is first placed. Generally a norm for most puja mandirs is that they also carry a box to hold essential Pooja items such as camphor, incense sticks, mustard oil, miniature clay made oil lamps, and matches to light the lamps and to smoke the incense sticks. They would also hold small bells which are rung during the puja sessions. This closet also similarly holds these draws over which the deity's pedestal is stationed. The level has an entry with twin posts on either side with deftly carved railings between the posts. The posts have a sturdy look each topped with a circular head. Half way from the sides of this base rise four carved piers reaching the top over which the roof rests. The backdrop of the sanctorum has a rosette foursome embedded into the wood, spaced and placed equidistantly.
Over the mandap the roof tapers down to a gentle angle and trinkets of metal are hung from the edges to give the mandir a grand look. Rising from there to the pinnacle is a three tiered flattened pyramid from the top of which rises the sikhara. Each tier has a pair of urushringas on either side as they progress to the top. This splendidly crafted model will be a worthy component of your home as the deity of your choice takes residence in it and radiates its benevolence all around.
Top