Wood Mandir USA
Product Name
Wood Mandir USA
Product Code
PM030
Price
Get Quote
Size & Weight


6ft H x 4.7ft W (leg to leg) x 4ft W (pillar to pillar) x 2ft Deep, 80kgs(apx)
Call for Pricing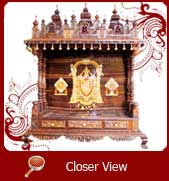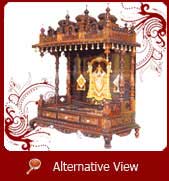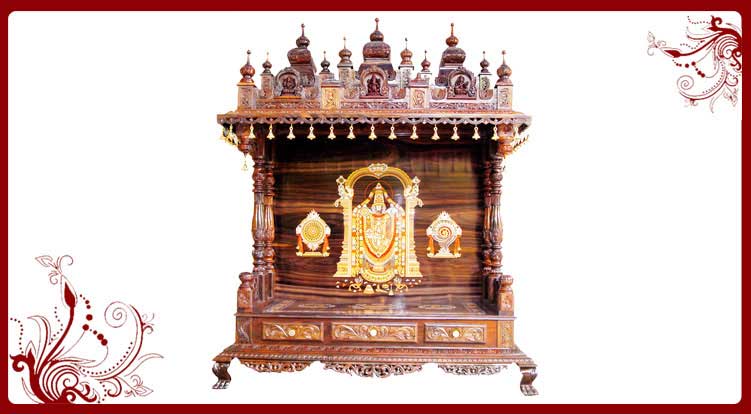 Wood Mandir USA are intrinsic part of our existence and form a sacred space in our daily activities of our lives. Our artisans have made no less efforts in preserving the exquisiteness of ancient puja temple and toiled to produce this wonderful piece of art, Lord Venkateshwara rosewood temple. This is a must buy for you home décor and worship. A glance at the temple is enough to appreciate its structural craftsmanship and its beauty.
Our wood puja mandir has separate domes on the top majestically designed and less extensive accommodating on the thick ledge. The gopuram is finely carved and forms a curved shaped design to hold the deities of Lord Ganesha, Goddess Lakshmi and Saraswati, each placed in front of the domes. The miniature raised structures spaced beautifully between the domes and corners of the roof give an outstanding appearance to the temple. The portico of the temple extends downwards to form a hemispherical concave pattern from which the brass bells hang to add more grace to the temple architecture.
The dexterity of our craftsmen is shown in the magnificently carved pillars on the either side of the platform, curvilinear and very neatly spaced. Glance to the space between the pillars forms a beautiful contour which is a striking articulation of the skills of our artisans. The podium is articulated with motifs and alpana patterns. The temple is open from three sides and the wall at the back is marked with finely designed sketch of Lord Balaji laden in floral style.
Our Hindu culture has a very rich heritage and to preserve its beauty is our effort to bring this temple to your home. You can offer your daily prayer and keep your puja items in the three drawers provided. The bottom portion of the wood mandir usa slants outward and forms three arch which is pierced and dotted with flowery design. Bring home this exquisite temple and offer your daily worship to the eternal.
Top