Home Temple Australia
Product Name
Home Temple Australia
Product Code
PM037
Price
Get Quote
Size & Weight


5.5 ft H x 4 ft W (leg to leg)x 3.5ft W (pillar to pillar) x 2 ft Deep, with 30" inches pillar height
Call for Pricing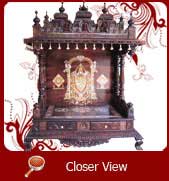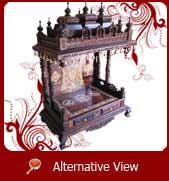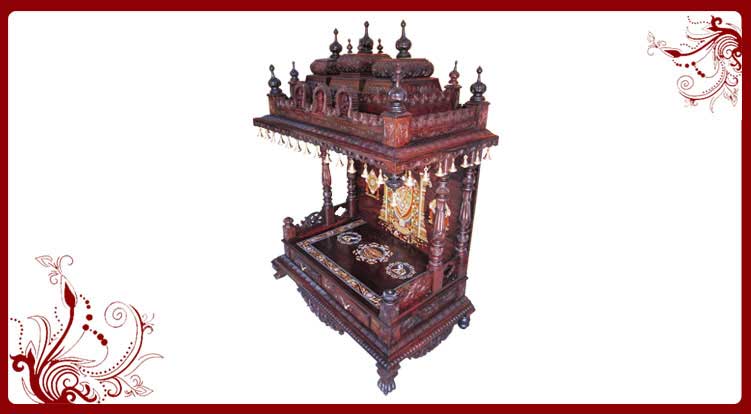 This beautiful architecture has three majestic domes located at the top, epitomizing the beauty of ancient wood temple home architectural exquisiteness. These beautiful domes are erected above a ledge which is broad and extend to the entire top portion of the architecture of the temple. Three deities, Lord Ganesha, Goddess Saraswati and Lakshmi carved out from the top portion of the temple sanctify your place of worship and your house.
The architecture is beautifully carved along the perimeter of the temple, speckled with garland like design from which hangs the dangling bells, adding wonderful and divine looks to the gopuram of the temple. Even a swirl of wind will produce sweet jingle from these bells. The most enticing feature of this home mandir is, Lord Venkateshwara, etched finely in the background along with a portrayal of discus, representing symbol of power and a conch shell which is a symbol of existence.
The floor is beautifully decorated with a floral design. The rims and the ridges have a mild wiping of blue in the entire architecture which gives a sense of calmness.A prayer is incomplete without an offering hence this temple is provided with two drawers to store Puja items like incense , camphor, wicks, holy books etc. The four pillars on both the sides extend to top and the lower area of the temple and the front lower part is elaborately embellished with a down arch, a very fine artistry to be appreciative of.
Wipe the home temple australia often to preserve its luster and longevity of the wood A temple in your house is like a soul in your body. Bring home this rosewood home temple australia and be showered with blessings of your lord.
Top