Door Mandir
Product Name
Door Mandir
Product Code
PM032
Price
Get Quote
Size & Weight


4ft H x 2.4ft W (leg to leg) x 2ft W (pillar to pillar) x 1.5ft Deep, 20kgs(apx)
Call for Pricing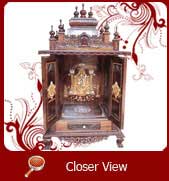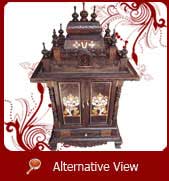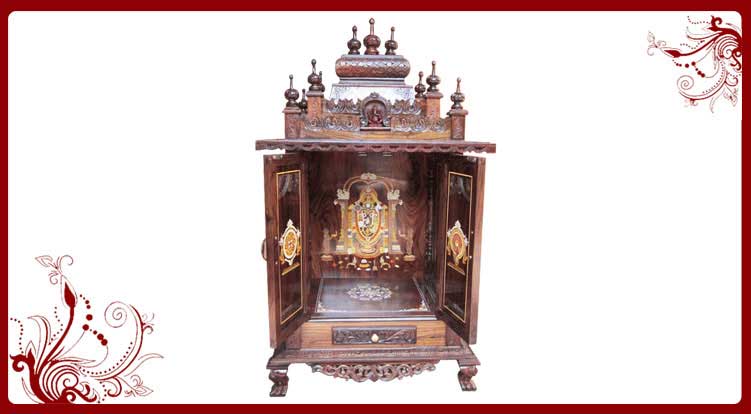 The richness and beauty in the architectural design of our door mandir designs is expressed by the adeptness and the dexterity of our human effort which is very well shown in the ability of our artisan in bringing the repetitive patterns in the temple. This door temple which we endeavor to bring to your home is concealed from all sides and with doors in the front is etched with Lord Hanuman on the front and symbol of power and existence on the inner wall of the doors. we have high experience artesian, we export our wood mandirs to Australia, Canada, USA and across the globe with quality wood and work. A solitary vimana on the top with floral design and raised structure in form of beads stands majestically in the entire architecture of the temple.
The raised block on the corners of the ledge is an architectural beauty of many ancient wooden temples which we have attempted to bring into this temple. The solo deity of Lord Ganesha housed in the arch, sits like a crown of the temple. The hemispherical pattern flanked on either side of the Lord Ganesha idol in the upper arch is a remarkable depiction in this structure.On opening the doors of the temple we find an elaborate sketch of Lord Balaji, etched in flowery pattern flanked by worshiping figures with diya in their hands and offerings of flowers, fruits and modak at the disposal of the lord. A daily prayers to your lord brings all the peace and prosperity in your life.
The podium is ornately designed in the centre and surrounded by finely marked alpana patterns on the periphery. The sides of the temple are finely sketched with a peacock which is a symbol of immortality. The door mandir models is provided with a single drawer to keep your offering like wicks and other puja items. The natural lacquer finish of the temple gives and elegance to the temple. You can place this temple in your house or a hotel lobby and ward off the evil. The richness involved in the lower arch which extends almost to the either ends of the lower bottom of the temple flaunts a higher skills and ability of our artisans that we employ. Buy our door temple design and ward off the evil from your life. This work of art is termite resistant and you need to dust it regularly to maintain its lustre.
Top