Balaji Temple Designs For Home
Product Name
Balaji Temple Designs For Home
Product Code
PM034
Price
Get Quote
Size & Weight


5.10 ft H x 4 ft W (leg to leg)x 3.5ft W (pillar to pillar) x 21" Inches Deep, 65kgs(apx)
Call for Pricing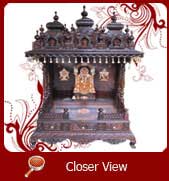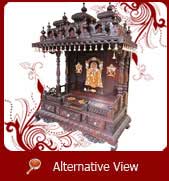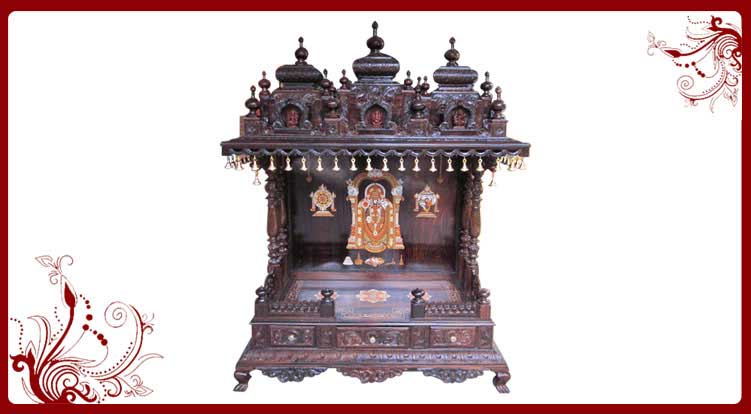 Hindu culture and its ancient architectures of temple have always formed an everlasting impression to the microcosm of our lives and to preserve our culture we have made every effort to give lord a holy place in every dwelling. Very finely crafted by the dexterity of our craftsmen, our Lord Balaji temple design is a sacred and suitable option for your abode. Order our home temple designs from Canada, Australia, India, USA and all over the world, we do quick delivery with good wooden box packing with safe shipping.
Three splendid hemispherical domes impose royally on the top extension of the temple architecture decorated around beautifully by small cylindrical beads spaced on the outer corners and in between the domes.The Gopuram is decorated with finesse and sculpted with the masterpiece of our fine arts,Majestically carved and sculpted with deities of Lord Ganesh, Goddess Lakshmi and Saraswati, the gopuram of the pooja temple enshrines our ancient Hindu temple architectural beauty. Be blessed and create a place for your God at your home.
The brass bells hanging from the upper border of the pooja mandir is a mark of splendor, jingling sweet sound with every whirl of wind and creating a serene atmosphere around. The podium is quite spacious, figuring lord Venkateshwara in the inlay, standing subtle ,delicate and composed, showering his blessings and ready to fulfill your wishes. The sides are marked with a discus, the sign of power and a conch shell which represents existence.
Very finely etched is the modak, diya and wick as offering to the lord fulfilling your worship. The floral design on the podium comprehends the look of the temple. On either side of the podium there are two pillars, curvilinear shaped, stretch to the upper and the lower portion of the temple home adding more elegance to the complete architecture. The dotted shaped structures the border of the podium connecting the pillars are the enticing feature of this temple, representing the richness of our Hindu culture.
The bottom portion has three drawers, spacious enough to accommodate puja items like camphor, wicks, incense etc and The facing area of the lower portion is exquisitely decorated with the carvings,giving an inner touch to this masterpiece of our craftsmen. Hanging from the bottom are three wonderfully crafted arches, giving a sense of completeness at every glace to the temple. This home temple design definitely deserves a place in your house. Fulfil your wishes, do your daily prayers in this magnificently designed temple home which is just for you.
Top