Rosewood Pooja Mandapam
Product Name
Rosewood Pooja Mandapam
Product Code
PM004
Price
Get Quote
Size & Weight
24"w x 24"l , 50"h, 20 kg (apx)
Call for Pricing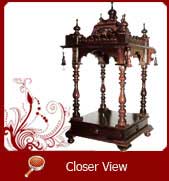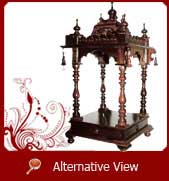 A thing of beauty is a joy forever, as the great poet Keats says. This is clearly reflective in this elegant mandir containing a single pedestal, from the corners of which rise the pier quartet atop where sits the magnificent roof. Typically this mandir is most recommended for placement in the centre of a hall around which the Pooja area can be earmarked. Most suitable for feminine goddesses such as Lakshmi, Saraswathi or such others, its structure appears to radiate the power of the deities within and without.
This outstanding example of master craftsmanship of rosewood pooja mandapam, rosewood carved and gracefully adorned alongside the edges of the roof. Supported on short rounded feet, the structure is a model built around a square pedestal. The bottom of the pedestal is given an edge of continuous angular beading to surround it and gives it a prepossessing appearance. The mandir is open all around and the deity is visible from all sides. The seat of the structure holds a drawer cabinet beneath it for storage, with a round wooden handle knob, and from its corners rise the majestic and beautifully carved pillars.
The deity can be placed right on the platform proffering an open 360 degree view for worship. The dome of the Pooja stand is a stunning object exhorting immense beauty and visual appeal. The tops of the four pillars appear to be covered from their necks as they rise to support the vertex of the pyramidal dome. The roof is beautifully surrounded by a parapet styled wall made from intricately carved wooden panels. The four corners port 'urushringas' i.e. subsidiary shikharas which are in turn elegantly rounded and look imposing as the deities of the four geographical directions, the North, the South, the East and the West.
At the base of the parapet, beveled beadings are fixed outside as borders and from all the four corners, gracefully modeled bells of wood are delicately hung, which gives a lovely feminine look to the structure. As the pyramid rises over the roof, on the frontal facade a fully engraved single floral design adorns the structure. Over this the pyramid is leveled off and again thin beadings are placed all around. From over the plane here, rises the central shikaram which is ensconced within four miniature shikarams from all the corners.
This wonderous puja temple upon its installation, manifests our deep respect to the most high being, whose grace, purity and divinity, perpetuate all around and shower us with eternal blessings.