Home Temple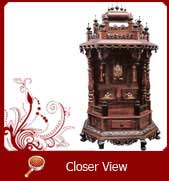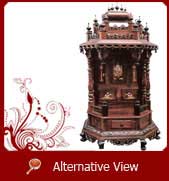 Let your favourite deities invest their blessings across your lives by positioning themselves in this wonderous wooden masterpiece in the most sacrosanct area of your homes and work areas. Seated on a lovely pedestal ensconced between the pillar quartets around, the benign self graceful exhorts sheer radiance across your living. This wonderous piece of handcrafted rosewood home mandir cabinet adorned with several stunningly overlaid and beautifully designed hanging borders, is reminiscent of traditional oriental architecture and emphasizes on its Indian styling.
The cabinet is made with premium quality rosewood and is positioned on six curved shortened legs of carved wood home temple. The octagonal base is surrounded by an elegant border and is panelled with a fine laminate. Topped with thick rivets of round wood, the next level contains a draw to hold essential Pooja requisites. Over this level is a courtyard style platform depicting twin balustrades connected to the entrance piers at the front and to the twin wooden pillars at either ends. While the court yard extends half way on this level, the main pedestal rises from the middle of the platform which is the chief seat of the deity. This pedestal as it rises to a right angle is at the front, provided with a twin support to illustrate or hold twin images of a maiden or devotee at each side, showering petals at the lord's feet.
The main seat of the deity i.e. the Garbagraha or the sanctum sanctorum, is placed on this pedestal as it occupies the centre of this wooden structure, open to view from the front. The divine seat is beautifully adorned with two smaller carved pillars at either side, and which also provide additional support to the dome of the structure. The roof of the cabinet is embellished with multiple hangings at the borders which appear to delicately protect the lord's seat. The roof is topped with eight miniature domes affixed over small pillars and placed with geometrical precision. The pinnacle of the temple or the shikara rises majestically from the centre of the level and is overlaid with elegantly carved and embedded decor.
On the whole, this divine structure is alluring to the eye and perhaps the lord himself, and makes for the inviolable centrepiece in the pooja chamber in our homes to position the most important element of our lives; God. The religious have their own way of expressing their devotion and we sincerely believe that God seeks those abodes most, which are built by the truest of the hearts. Let this elegant and lovingly crafted creation therefore demonstrate your genuine respect, prayerfulness and honour of the Lord.