Puja Temple
Product Name
Puja Temple
Product Code
PM023
Price
Get Quote
Size & Weight


5 ft H x 3.5 ft W (leg to leg)x 3ft W (pillar to pillar) x 21" Inches Deep, 50kgs(apx)
Call for Pricing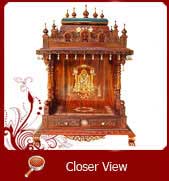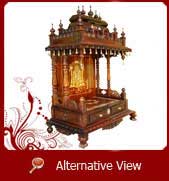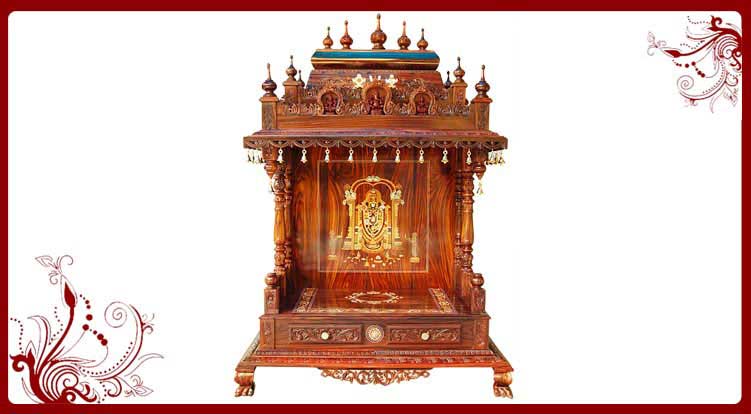 Rosewood Puja Temple for Home are considered as one of the most sacred places like USA, Australia, Canada, India and across the globe. Being reserved for performing spiritual or religious activities, they are considered as God's abode. In order to receive priceless blessings of Almighty and creating tranquil ambience of temples in the homes, people prefer keeping them in their homes. Since ages, people do not feel hitch in making significant investment for their Pooja Mandir. So, we are here to sell Balaji Puja Temples in reasonable cost, your search ends with us.
The Tirupati Balaji temple designs is situated in Andhra Pradesh, 67 km from Chittoor. The temple is considered as one of the most visited pilgrimage centres in India. One can experience and remain connected with imprints of Hindu and Dravidian architecture by placing our Balaji Carved temples in his homes or offices. Mini domes, floral patterns, intricately placed idols of God, mantap, sturdy pillars, etc. testifies the sacrosanct sanctity of the temple. Aspheric appeal of the Mandir is further accentuated by small shrines placed inside the temple and Balaji figure, placed in the centre of the Mandir. The brass - ware and carving work done by our craftsman in the temples meticulously surely going to mesmerise the senses of Balaji's followers. Taking ahead the Indian tradition of praying, Pooja Mandir aims at manufacturing temples made from termite proof rosewood and teak wood having mythological significance.
Performing puja without pooja items is like having a Mandir with no idols. Pooja items like incense, camphor, wicks, pooja book, etc. can be placed in two drawers at the bottom of store. Remain stress free by placing the puja temple in your home as they require minimum maintenance. Simply by dusting and wiping the lustre of wood can be retained for a long time.
Polished and prepared with every perfection and finishing, the Balaji puja temple provided by us are made from superior quality of Rosewood and exported in many parts of the USA one can find temple designs in hosts of designs, sizes and thickness. Meeting customers' expectations or manufacturing Wooden temples as per client's specification is a testimony of the skills possessed by our artisans. So, do contact us for adoring the spiritual beauty of exquisite of Balaji Carved Mandir.
Top