Wooden Mandir Sale
Product Name
Wooden Mandir Sale
Product Code
PM017
Price
Get Quote
Size & Weight
2.5ft ht x 18" width x 12" deep
Call for Pricing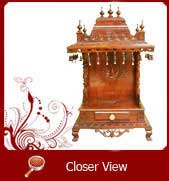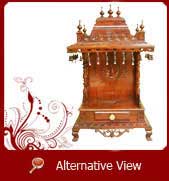 A temple or Mandir as it is known in Hindi is the home of God, so why should it be anything but beautiful? We bring to you this beautiful wooden mandir for your house, where you could install your deities, worship them and take great care of them. The wood work is delicately done by our artisans which gives the Home Temple a creative touch.
The top portion of the wooden mandir is adorned by vimanas or mini domes which give it class and elegance. Further down, a border of floral design is wonderfully carved into this lustrous wood with domes are mounted at the four corners to conclude the architecture of this wooden temple. The perimeter is dotted with a garland like design from which gorgeous bells hang regally. This forms the Gopuram of the temple designs.
A carving of the sun is etched into the background, and on the floor is a floral pattern. Both forming a complete harmony of design together. Its altar area is spacious enough to house deities of your choice. The pillars at both the sides hold up this well-designed wooden mandir to its full splendor. A drawer below can be used to put in your daily-use pooja articles like camphor, wicks, chanting books, incense, etc. Other patters are delicately carved by our fine artisans to give you the wooden mandir you are looking for. Through the architecture of this wooden mandir we try to replicate the Hindu style of building home temples. Therefore, through this Mandir for your house you could place the Lord in royalty and where he could reside amongst fine floral and geo-metrical patterns. Though, the look of this wood Temple is essentially simple, in this simplicity lies its beauty. The soothing shade of the wood used to carve this replica of Hindu Temple is very pleasing to the eye. The temple stands tall and strong on its sturdy paw-shaped legs. The wood we use to make this Wooden Mandir for you is not only superior in quality but is also termite-resistant.
This Wood Temple is a condensed illustration of a typical Hindu temple. Suited for any type of atmosphere home, office or hotel lobbies, this wooden mandir is bound to give your house an aesthetic appeal. Plus, the wooden temple requires minimum maintenance like frequent dusting and wiping of the mandir to preserve the longevity and the luster of the fine wood used to make this beautiful Mandir for your home.
Top